2 mai 2010
7
02
/

05
/

mai
/

2010
08:00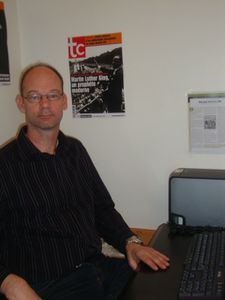 Henrik Lindell, journalist at Témoignage Chrétien since 2001. He's in charge of the International. From Sweden he did several reportages in Africa, for TC such as in RDC and in Congo (Brazaville).
.
Africa : a billion of good news
20% of the land superficy. 57 countries. 16,5% of the worldwide population. 1 billion of people. 1 billion of good news.
Africa is a magnificent continent where are maybe the origins of the humanity. Huge human, cultural and natural resources are there. Is it a 'cliché' to say that? Let's dare positives affirmations as it's not done that often in the serious magazines.
Africa is complex cultural pattern which is exported all over the world and which have influenced historically a lot of contemporary stories.
If this influence was just a 'cliché', western music, fashion, dance would have been peanuts.
Africa could tell us something important in ecology, since human beings sometimes live in symbiosis with its natural environment. Yet a 'cliché'? Not if it goes on the spot. Renewable energy is developing in a surprising way.
The man is often less lost than in the West. True step? But why so many Africans feel bad in Paris knowing they have everything what they were looking for in Africa?
Africa is a world where people still think something impassable and is very well. Painful truth to our ears if rational? But do you know many non-believers Africans? Us neither. Then this is true. We need these beliefs? In Africa, is obvious. What about France? Here again, let's see in Paris (in the poor suburbs) and it will give you the answer. Yes, the Gospel, when it is still proclaimed, it is very often done by Africans and it speaks to some Europeans. The Catholic Church in France employs hundreds of young African priests and does not seem to complain. Because there are not young French priests anymore.
Africa is the youngest continent.
So, logically, that where the future may be more assured ? but no. And it comes again: Africa is the poorest continent! 2% of world trade. Except in North Africa or in the South of the continent, there is no MacDonald's or Starbuck. And in sub-Saharan Africa oil-producing countries, they are the last to be able to do a full. In our media, and even the author of these lines is himself sometimes guilty, by explaining too often that everything is going from bad to worse. The few exceptions - wealth and well-being - are there only to confirm the rule: Africa is poor. News from Africa are still very bad. Or miserables. Or exotic. Or zoos. Or related to the Françafrique. In reality, and Dante had well said: it is always easier to tell bad news, describe the misfortune and the horror than to be focused on happiness and on what is going well and.
Our words in this article and all the special issue of Parvis is not to say that all is well in Africa. It would be ridiculous. But stop thinking that everything is going poorly. Because this is wrong. Here are a few quantifiable truths too often forgotten.
Africa is rich (and not only for its raw materials)
In Africa, we say that we count wealth with the number of friends, parents, network. A rich person is a person who has a large family. And most of the Africans have large families. Without even mentioning the immense resources of mining or of energy, without even thinking about the agricultural potential, making Africa a continent actually very rich in the economic sense, we can say that Africa is rich. Thanks to Africans. And so as defined by the Africans themselves. This is not just a view of mind. It is a fact.
If you have a doubt, take a tour to Goma in Congo-Kinshasa. Or, if you find this too complicated, have a look in the districts of Dakar. People survive, and some live even properly, according to their definition in material conditions that it would be indecent in the West. Where life should not be possible, statistically, where it earns less than one dollar per person (absolute poverty, international definition by UNO), where people eat much less than our pets, life is still possible. People are born, are educated, attend school, marry, have children, educate them, watch TV and have equal access to the mobile phone. Sometimes they are demonstrating their discontent, especially against the expensive life. Sometimes, they are allowed to participate in proper elections (this is the case in Senegal, for example). While officially, financially, fiscally, they have nothing. They do not officially work. They have no official salary.
Is it therefore that the multiplication of the breads are held every day? Perhaps! This is what would say some African Christians. But one thing is certain: D systems is invented, as explained so well Serge Latouche Economist. "Parallel" savings – but savings anyway - allow most of them to feed. Thus unfair alternatives to the worldwide economy are created.
There is therefore something, in this popular Africa who often live in destitution, that the West does not understand. For us for exemple, we do not understand anymore that human beings are always a wealth. Not only to the "humanist" meaning of the term. But the meaning of the human resource: each human being knows something. Each has expertise. Each is useful for others. And almost everyone has a family or friends. And in this family - always at the very broad meaning in Africa - we practice the solidarity. Where the State is not or is no longer in Africa, there is always the family. And that's it - as a primary group, basis in the life of a human being - which makes of Africa a rich continent.
The life expectation increases.
Life expectancy increases in Africa. And the standard of living increases. We go a bit better today than it was ten years ago. It is sometimes better than twenty years ago. And we are surely better than at the time of the colonies. Insist on this may seem outrageous. Diseases sometimes kill whole villages. A global neo-liberal economic system condemns African countries experiencing a "low human development" to beg crumbs from the table of the rich people. Low intensity war continue to kill in Sudan and elsewhere. But in the last report of UNDP (in 2009), it is said: the country where you live less time in Africa is Sierra Leone. Life expectancy is 47,3 years. Only one country in the world is worse: Afghanistan (43.6 years). This country is known only because it's affected by the war Al Qaeda, the Taliban and the Americans, but it is not known for its hardware poverty.
The economic growth is positive.
Riddle: what is the only country in the world that has had an average economic growth more than two digits for two decades? China? South Korea? Dubai? No. Botswana. The small diamantiferous countries close to the giant South African is also the one which fight against poverty and corruption.
Currently the majority of African countries knows a biggest economic growth than the population growth. This growth is driven by businesses (export), often in the extractive sector.
We initially suggested that is not Western capitalism that will resolve all the economic problems of the continent. But States and African firms need money to invest in infrastructure and organize food self-sufficiency wherever it's possible. They need to develop the markets between regions and between countries. The development of a certain capitalism in Africa could allow the necessary expenses. It could also help to avoid the debt. Helped by the International Monetary Fund and the World Bank, States are reaching gradually, particularly in southern Africa and West Africa.
Africa becomes more democratic.
There was a time where a French President could say that "Africa is not mature enough for democracy". It was Jacques Chirac. Before him, François Mitterrand had indicated that despite its good speech, he did not really believe in democracy in Africa. He had supported several dictatorial regimes and one of those was a genocide in Rwanda. In Dakar, in 2007, Nicolas Sarkozy said that Africa doesn't have story. Like its predecessors, Sarkozy is mistaken of course. Certainly, this continent has a dozen reprehensible dictatorships, including notably the hubs of the Françafrique (Brazzaville-Congo, Gabon and Chad). But these specific regimes should not forget the historical evolution of substance: Africa democratises to giant step. Mali, Senegal, Sierra Leone and Botswana are all "small" countries which became democratic.
But there are also major: South Africa and Nigeria. And the Congo-Kinshasa, despite the sometimes chaotic situation is getting popular consultation and a regime which respects at least a certain national balance. This is not anything when we know that it was in the Congo-Kinshasa regional wars, from 1996 to 1997 and 1998 to 2002, which have done four million dead. In General, media well relate jams urns and rigged elections. But there is less and less. The media, and we are part, does not say enough that the majority of African countries are officially democratic. Most of you probably know that Côte d'Ivoire is still very unstable. All political conditions are there for the war breaks out again. But who knows that in a neighbouring country, Ghana, the last presidential election in January 2009 saw the Johan Atta-Mills opponent peacefully successor to John Kufuor, who had reigned for two terms, thus respecting the constitution? Democracy prevails in Ghana. And this is the general trend in Africa. This is good news. And we have no right to disregard these good news.
Henrik Lindell